Friends of Fr. Caseys Fundraiser
Fr. Caseys GAA Club are currently embarking on a unique fundraiser to raise vital funds for the continued development of our club grounds. Given the current climate all volunteer organisations need the support of its members now more than ever. We are calling on all club members both past and present, those overseas and within the locality to please support this important fundraiser. We appreciate your help spreading the word to family & friends.
A free standing sign will be erected in front of our clubhouse containing the names of all club supporters who have generously supported this fundraising initiative. This sign will be attractively constructed to complement our existing club grounds and will stand as a long term indication to future generations of your generosity to support and improve the club.
Placing your name on the sign will cost €100 for a once off payment. We are also willing to facilitate staged payments by direct debit (either 2 x €50 or 5 x €20). The related IBAN for this is ie11aibk93501800012325. To submit your name please contact any committee member or email the club secretary at secretary.frcaseys.limerick@gaa.ie. There has been a fantastic response to date so if interested please do not delay to make contact.
The money raised from this fundraiser will be used to enhance the development of our club grounds. A list of upcoming and recently completed upgrade projects within the club can be viewed below. This is not a final list and we will seek to continue to improve the club grounds for all club members where applicable. Pictures of the proposed concept and a similar venture recently undertaken by Templeglantine GAA Club can be viewed below.
List of Upcoming Projects

* Upgrade of Existing Sand Area including installation on New Fencing
* Installation of New Fencing along River Walkway
* Installation of New Fencing along perimeter of Main Pitch
* Resurfacing of Existing Car Park
* Upgrade of Clubhouse Doors & Windows
List of Completed Projects

* Installation of Sand Based all-weather Training Pitch with automated Drainage System
* Installation of Lighting on all-weather Training Pitch
* All Lighting on Club Grounds upgraded to LED standard
* Upgrade of Heating System in both Clubhouse & Sports Complex
* Upgrade of Showering system in Sports Complex
* Clubhouse Fully Insulated
* Clubhouse and Sports Complex newly Painted and Varnished
* Disabled Access Toilet placed in Clubhouse
* Upgrade of Roofing in Sports Complex
* Upgrade of Windows & Doors in Sports Complex
The Proposed Concept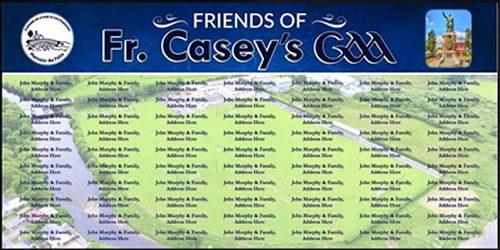 Similiar Venture from Templeglantine GAA